Lifesaver collision inspired!
9/27/2011
A couple of weeks ago, I got an email from the PR company from Wrigley (think Skittles, Starburst, Lifesavers, Orbit gum, Altoids, and more). And they challenge me to create a look or a fashion tip inspired by these candy- my sweet tooth was so excited about the box filled with candy (and I loved the idea of getting inspired by candy- I believe inspiration is EVERYWHERE)! When I opened it, the first thing that got my attention were the new lifesavers- they are two different flavors and colors. I was inspired to try a different color-block combo (turquoise and yellow). But here's the best part... they also offered me a Rebecca Minkoff bag (valued at $295) - but I decided to give it away to my amazing readers because I never find the words to say how thankful I am for all the love and support. The giveaway will be up in a couple of hours! XOXO
____________________________________________
Hace unas semanas me llegó un email de la compañía de Relaciones Públicas de Wrigley (que incluye caramelos como Skittles, Starburst, Lifesavers, chicles Orbits, mentas Altoids y más). Y me desafiaron a crear un look inspirado en cualquiera de estos caramelos- me encantan los dulces así que cuando llegó una cajita llena de caramelos me emocioné toda! Aparte que me encantó la idea del reto, yo considero que nos podemos inspirar de todo lo que nos rodea. Cuando abrí la caja, lo primero que me llamó la atención fue un paquete de gomitas Lifesavers que son de dos colores (mitad y mitad)- y me sentí súper inspirada por la combinación amarillo y turquesa, de manera que quise rercrearlo en bloques de color. Lo mejor de todo es que también me ofrecieron una cartera REBECCA MINKOFF (hermosa!) para mi o para ustedes- pero decidí rifarla entre mis seguidoras porque nunca encuentro como agradecerles por tanto cariño y apoyo. La rifa la voy a publicar más tardecita, así que no olviden regresar! Un abrazo inmenso!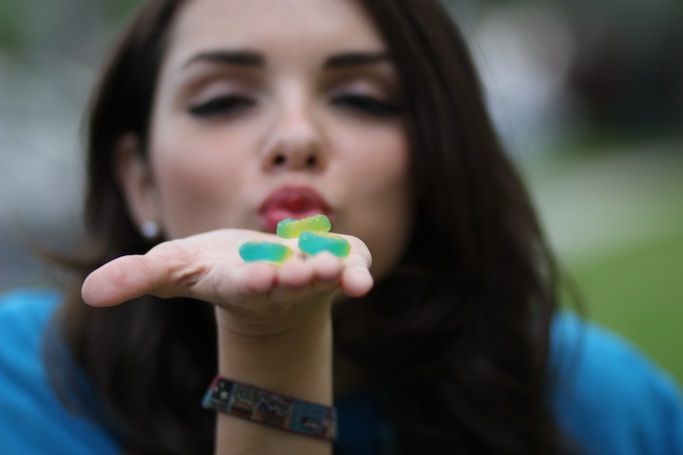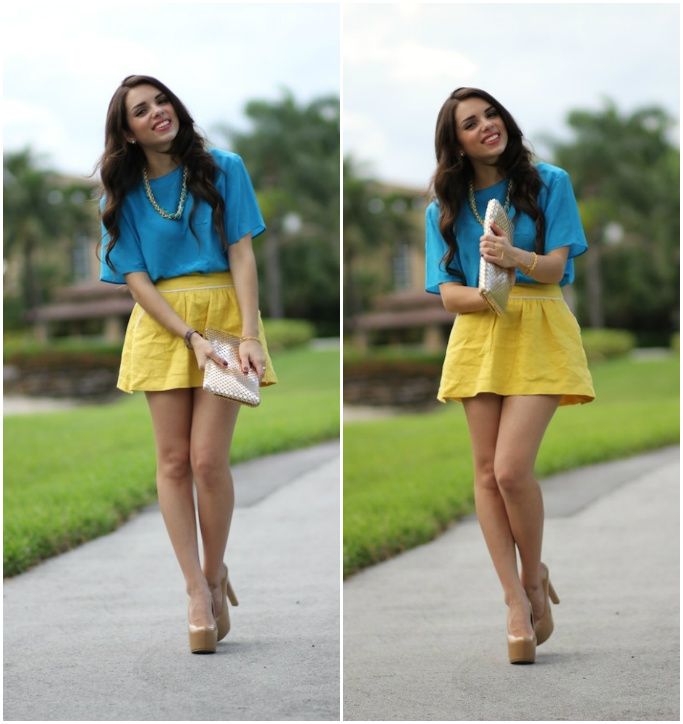 Shoes/Zapatos: c/o
Bebe
Skirt/Falda: Forever 21
Top: Vintage (thrifted)
Necklace/Collar: c/o
Pop of chic
Bag/Cartera: c/o
Mimi boutique
Ring/Bracelet:
Brittney Miranda
Disclosure: The company provided me with the candy and the Rebecca Minkoff bag to give away. All the opinions in this post are not influenced or edited- there wasn't monetary compensation.
Aclaratoria: la compañía me dió la caja de caramelos y la cartera para regalar. Todas las opiniones en este artículo son totalmente mías y no fueron editas o influenciadas- tampoco hubo compensación monetaria por escribir este artículo.