Visual Merchandising Final Project!
9/15/2011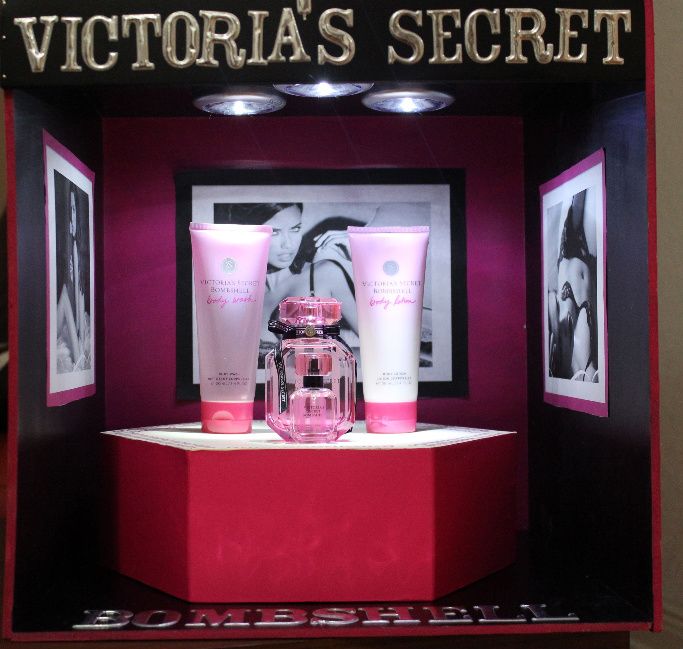 I just wanted to share a couple of pics from a final project. For those of you who just found the blog, I started studying Fashion Merchandising a couple of months ago and I love it. One of the classes I'm taking is Visual Merchandising, and the final project was to create a mini display window or a miniature store. You could do absolutely anything and any product, the only requirement was that the box measured 14X14 inches. For inspiration, I decided to walk around the mall- I saw someone with a crazy amount of Victoria's Secret bags and I was like "that's it" (and the outside of the box is painted with stripes). Then I entered the store and I headed to the perfume section. When I was paying for the perfume, the back wall had huge B&W pictures of the models so I got my inspiration from there too. I was so excited and proud of my work that I kept tweeting and posting the pics on Facebook but I really wanted to share them here too. I hope you liked it! I promise I'll take a lot of outfit pictures this weekend! XOXO



Quería mostrarles las fotos de mi proyecto final para una clase. Para las que no saben, empecé a estudiar una seguna carrera en moda, especificamente mercadeo de moda (Fashion Merchandising). Y una de las clases que vi este semestre es Visual Merchandising (la primera de tres)- y en esta, el proyecto final era hacer una mini vitrina usando lo que aprendimos en el semestre. Podía ser de lo que quisieramos, la única condición era que el cubito fuera de 14 x 14 pulgadas. Quise hacerlo de Victoria's Secret porque apenas vi una bolsa, me inspiraron muchísimo las rayas (toda la parte de afuera tenía las mismas rayitas). Luego fui a la tienda y vi el perfume "Bombshell", el cual me pareció perfecto para la cajita. Estaba tan emocionada y orgullosa de mi trabajo que estuve mostrándoles las fotos por Facebook (www.facebook.com/nanysklozet). Pero también quería compartirlas por acá . Un abrazo inmenso. Les prometo tomar muchas fotitos este fin de semana!