MADE IN THE 80s!
10/29/2011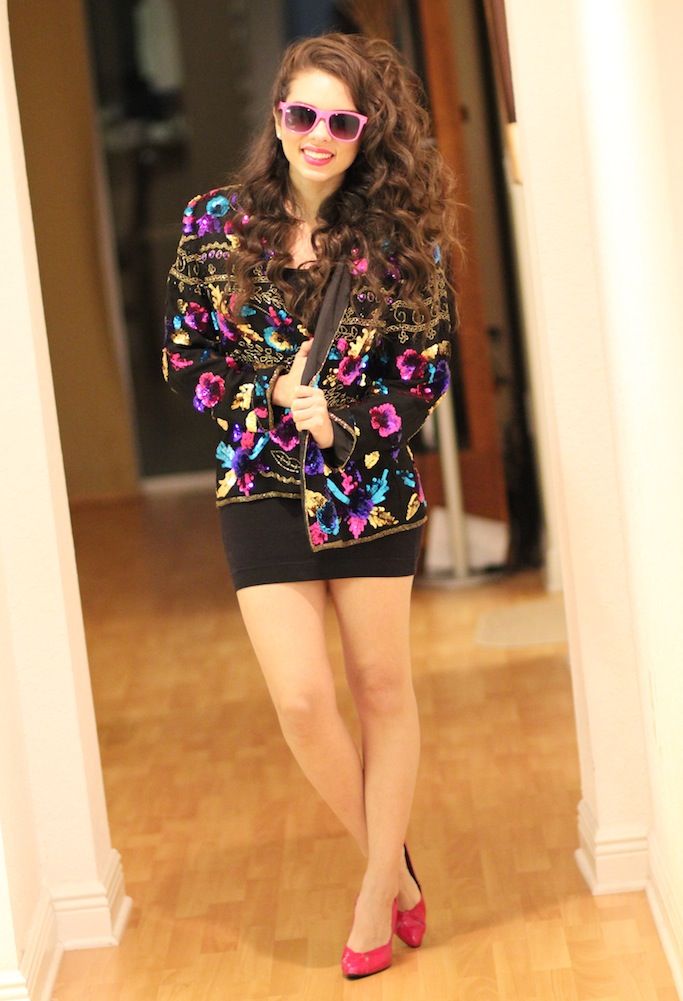 Even though I have a couple of pics to post from this week- I couldn't wait and I really wanted to show you the pics from my bday party yesterday. As I told you previously, I love themed parties- specially on my bday because people are more prone to get dress up. Also, I love the 80s; I was born in 1988 so I don't remember absolutely anything from that decade- but I love the tackiness of the time; the big hair, colorful makeup, over-the-top clothing. About 90% of my friends dressed up, and it was so cool to see a lot of characters from the 80s: the Madonna, the Miami Vice duo, the Jane Fonda crew with their exercise gear, a rapper, etc. I had so much fun and I hope you enjoy the pics below! About my outfit: the past two weeks were so hectic that I wasn't able to get my "costume" until the day of the party. I went to my favorite thrift store and found this amazing (never worn) jacket for $30- it's gorgeous, and so heavy because of the sequins. And I also found these pointed shoes (very 80s) for $3 and they were in perfect condition! Finally, I added some clip ons from that time (originally my mom's) and a tight dress from forever 21 that I got years ago. Did you like it? XOXO
____________________________________________
Aunque tengo varios artículos pendientes de esta semana, no me aguanté y me moría por publicar las fotos de la fiesta de ayer. Como les conté, esta semana cumplí años pero cayó atraversadísimo el martes- razón por la que lo celebré el fin de semana siguiente. También creo que les he mencionado anteriormente que me encantan las fiestas temáticas (especialmente en mi cumpleaños porque así la gente se anima más), esta vez quise hacerla de los años 80s. Me encanta esta época, tal vez es porque nací a finales de los 80s- y me hubiera gustado poder vivirla un poquito más (porque solo me acuerdo de los noventas). Casi todos mis amigos vinieron disfrazados- uno de rapero, otros a la Jane Fonda (de ejercicio), una de madonna, otros del show Miami Vice y más. La pasé buenísimo y espero que disfruten las fotitos! Sobre mi outfit, estuve tan a millón que finalmente tuve tiempo de buscar la ropa el mismo día de la fiesta. En la tienda de segunda mano encontré esta chaqueta TOTALMENTE nueva por $30 y estos zapatos intactos súper ochentosos por lo puntiagudo a $3- luego agregué unos zarcillos/aretes de mi mamá de la misma época y un vestido pegadito mío. ¿Qué les pareció? Un abrazo inmenso!