All the big trees!
3/29/2012




I realized that all my Sunday outfits are very comfy and simple- for me Sundays are the perfect days to spend the whole day in your PJs. However, I force myself to dress up and do something- I really like that this outfit is so simple but the accessories (like the scarf and the bag) really make it more "dressy". Talking about accessories- I really wanted to make a quick parenthesis and talk about "my bags" (and specifically about this one since it's one of those "Celine for less"). A couple of months ago a website talked about me and about how they loved my looks but hated how I wore "cheap knock-offs" bags and that she would prefer going to Aldo to get bags. That day I went to the mall, and I headed to Aldo- I swear that all the bags I saw here "cheap knock offs" too- meaning that all the bags were inspired by designers bags ( I saw Chanel-ish quilted bags, Birkin-ish bags, and every it bag). I'm not saying there something wrong with that, even designers get inspired by other designers (Is it me or the Michael Kors Hamilton is very reminiscent of the Hermes Birkin). I personally do not wear something because it's THIS or THAT brand- if I like something I don't care if I got it at a thrift store or at a specialty store. On the other hand, I love finding "looks for less" because I know that the 90% of the women can afford a $2,000 bag (including me!)- and you can look like a million dollars without having to spend them!. I know that many of you might not agree with me... and that's okay, I don't know what to start any controversies . Back to my outfit, I wore this to have lunch with my boyfriend before having to go home and PACK! Like I told you before, my brother is getting married this weekend and I had to travel. Tomorrow I'll share my first outfit at the first destination! Hope you like it! XOXO


_________________________
Si se dan cuenta, mis outfits de los domingos son mucho más cómodos que el resto- es un día que me obligo a vestirme para aprovecharlo porque si fuera por mi me quedara en pijamas toooodo el día. Y este es una de esas combinaciones que fuera totalmente sencillo sino fuera por los accesorios- me encanta que bufandas como estas visten muchísimo y no dan calor (especialmente cuando vives en una ciudad tan caliente). También quería hacer un pequeño paréntesis y hablar de "carteras" ( y específicamente de esta porque es una de esas "look por menos" de una Celine). Hace unos meses, una página escribió de mi diciendo que le encantaba mis looks pero que odiaban como usaba imitaciones de carteras ( y también había un comentario que esa persona prefería comprar carteras en "Aldo" que imitaciones). Ese día entre a Aldo y les puedo jurar que vi "imitaciones" en todos lados- Aldo estaba lleno de Hermes Birkin, Hermes Kelly, carteritas tipo Chanel y Celine. No digo que está mal, hasta los diseñadores se "inspiran entre si" (¿no les parece que la Michael Kors Hamilton tiene un aire a la Hermes Birkin?). Y yo personalmente uso ropa/accesorios que me gusten, no me importa si la encontré en una tienda de segunda mano o Saks - y yo en ningún momento he dicho que estoy usando una Celine (en este caso), más bien me gusta encontrar look por menos y demostrarles que puedes verte bien sin gastar mucho dinero. Se que muchas no van a estar de acuerdo, y respeto sus opiniones- no quiero causar ninguna controversia, solo quería hacer una pequeña aclaratoria. Volviendo al tema, este outfit lo utilicé para salir con mi novio y con chiqui a pasear. Luego tuve que regresar a mi casa a hacer maletas porque estoy de viaje. Mañana les muestro el primer outfit en mi primer destino. Feliz día a todas y perdonen este post tan largo! XOXO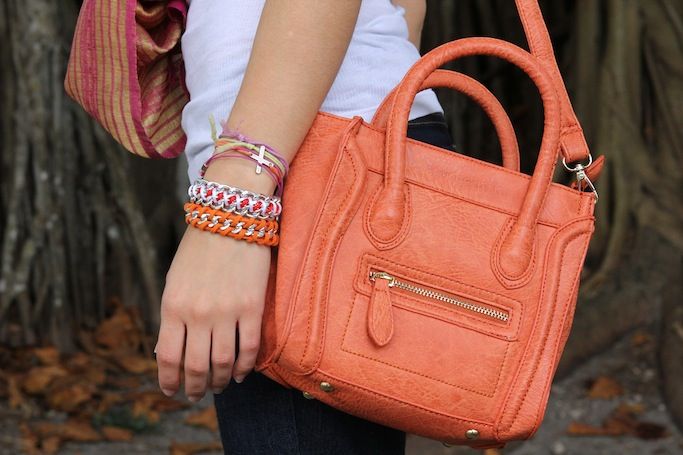 Jeans: Forever 21
Ring/Anillo: Ebay "European Retro ring"