Floral and cut-outs!
7/29/2012
This is the second time you see
these floral shorts
, I wore them to the
Bal Harbour
brunch during Swim Week ( I wore them with a mustard top). This time I really wanted to pair the shorts with this small terracotta bag- I didn't want to add to many colors so I just went with fun black top with cutouts. Talking about purses, recently I'm obsessed with smaller shoulder bags- they make you take only the neccessary: the wallet, lipstick, keys, and your cellphone (I feel like the bigger the bag, the more unnecessary things we add). This top is actually more like a tunic- but since the fabric is very light I didn't have any problem tucking it in. About my day: I run some errands and then I got together with a couple of friends to watch the opening ceremony of the Olympics (my favorite part is definitely Gymnastics- specially because I did gymnastics for about 8 years when I was little). Hope you liked the look! Thanks for stopping by!
__________
Esta no es la primera vez que ven estos shorts de flores, me los puse recientemente en el "desalmuerzo" con Bal Harbour (pero con una camisa mostaza). En esta ocasión quise utilizarlos con una carterita color terracota, razón por la cual quise usar una camisa negra de manera que no hubiera tanta mezcla de colores. Hablando de carteras, últimamente estoy obsesionada con las carteras pequeñas- este tamaño es perfecto porque cabe solo lo necesario: el monedero, la pinturita de labios, las llaves, el celular y una que otra cosita (siento que entre más grande es la cartera, más cosas innecesarias llevamos). La camisa es bastante larga, pero como la tela es delgadita no se notaba debajo del short. Sobre mi día: hice una que otra diligencia, como hacer mercado- y luego nos reunimos con un grupito de amigos para ver la ceremonia de las Olimpíadas (mi parte favorita es definitivamente la gimnasia- sobre todo porque hice gimnasia como 8 años!). ¡Espero que les haya gustado este look! Gracias por visitar el blog y por sus comentarios!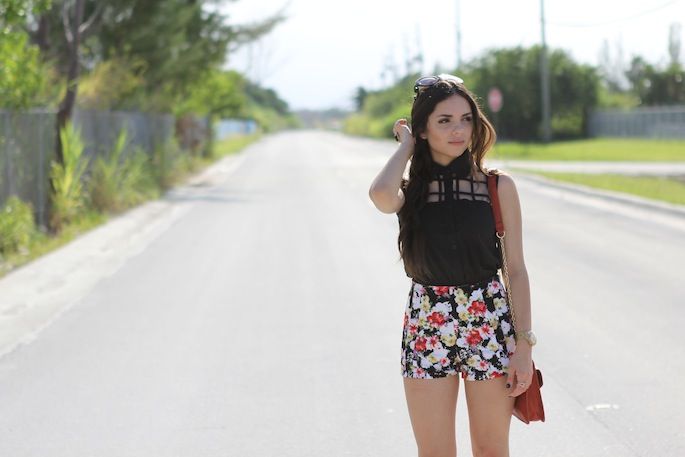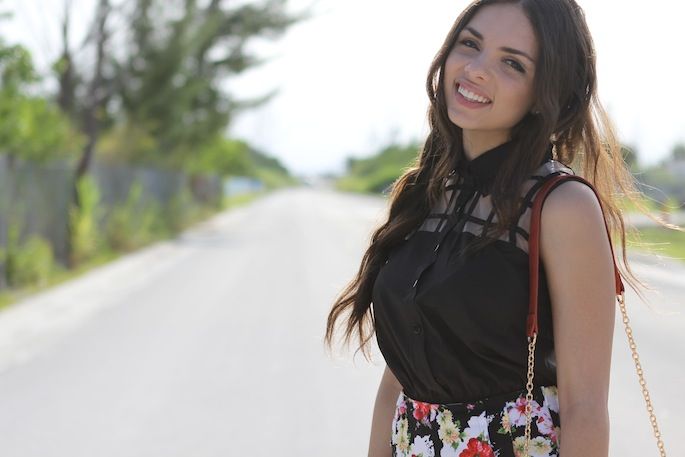 Shorts: c/o
Romwe **on sale*
Cut-out top: c/o
CausewayMall
Black Wedges: c/o
Payless
Bag: c/o
Baghaus
Ring:
ebay
Watch: Swatch