Rock and rain!
8/27/2012
55 Comments
aldo , black leggings , brahmin , combat boots , denim shirt , ebay , express , forever 21 , mimi boutique , pink and pepper , romwe , simple white tank top , spike bracelet , studded boots , target
Edit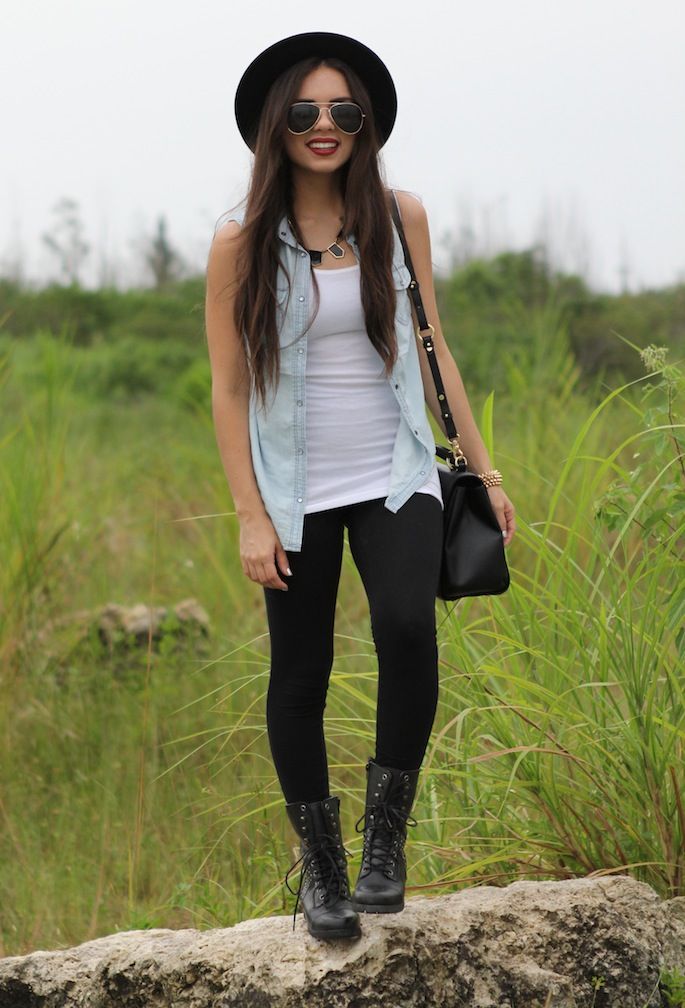 Thankfully, Isaac stayed as tropical storm instead of a hurricane- but it's better to be prepared just in case. So, on Saturday I went to get some groceries and water- I also got ink for the printer and random boards for a couple of university projects (I knew everything was going to be closed Sunday and probably Monday so I wanted to get everything done for Tuesday). So I decided to go as comfy as possible with some leggings and a tank top - but I threw a couple of accessories to make it more "put-together". I added a "vest"- which is actually a sleeveless denim shirt **
SEEN HER
E, I just wore it with colored denim** . I also wore the same necklace and bag I was wearing on Friday (Am I the only who gets lazy when it comes to switching bags!?) Finally I wanted to wear my new boots- perfect for the rain too. I've wanted combat boots for so long but I was afraid I couldn't pull them off... but who cares, if you like something... wear it! I hope you enjoyed your weekend; I stayed home mostly watching movies and working on my projects! Have a great week! XOXO
____________
Gracias a Dios, Isaac solo fue una tormenta tropical y no se convirtió en huracán- pero mujer prevenida vale por dos! El sábado estuve comprando agua y comida por precaución, y también fui a comprar tinta para la impresora y unas cartulinas que necesitaba para hacer un trabajo. Ya que todo iba a estar cerrado el domingo, quería tener todo lo necesario para hacer unos trabajos de la universidad. Así que opté por un look extremadamente cómodo con leggings y una camiseta blanca- pero para vestirlo un poquitico más le agregué otra capa de ropa con esta camisa de denim que vieron hace poquito con unos jeans de colores **AQUI**- también usé el mismo collar geométrico de ayer y la misma cartera (¿no les pasa que les da flojera andar pasando todo de una cartera a la otra?). Finalmente quise usar mis botas nuevas; siempre quise unas botas tipo "combat" pero pensé que no iban con mi estilo- pero quise intentar algo nuevo, si te gusta.. ¿por qué no!? Espero que hayan disfrutado su fin de semana; entre tanta lluvia yo lo que he hecho es ver películas y hacer tarea de la universidad! ¡¡FELIZ SEMANA!! ¡¡Abrazos!!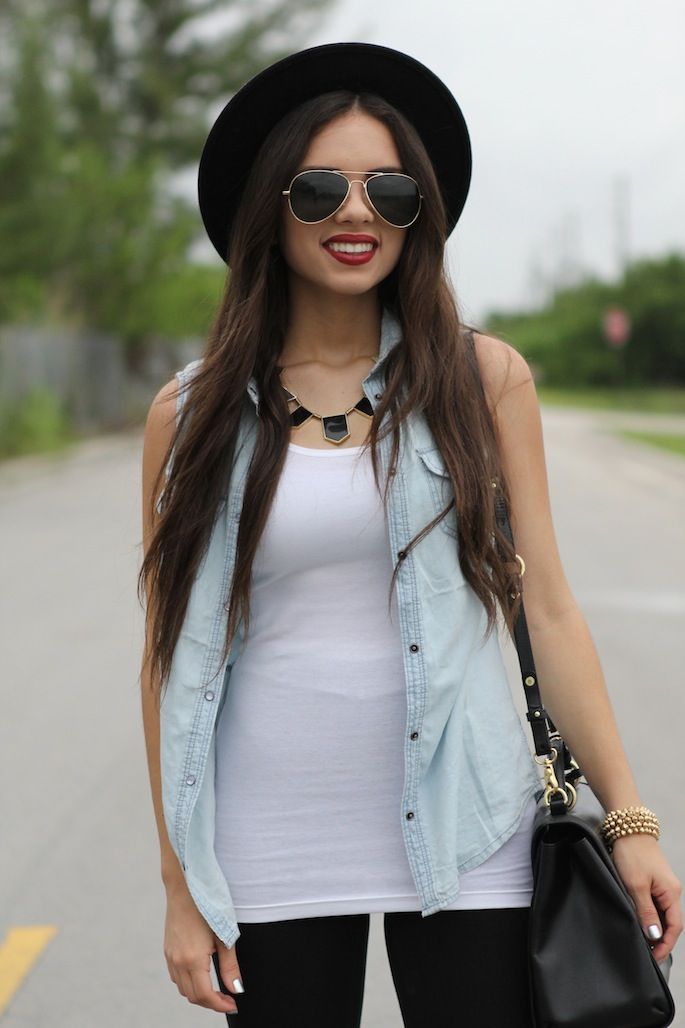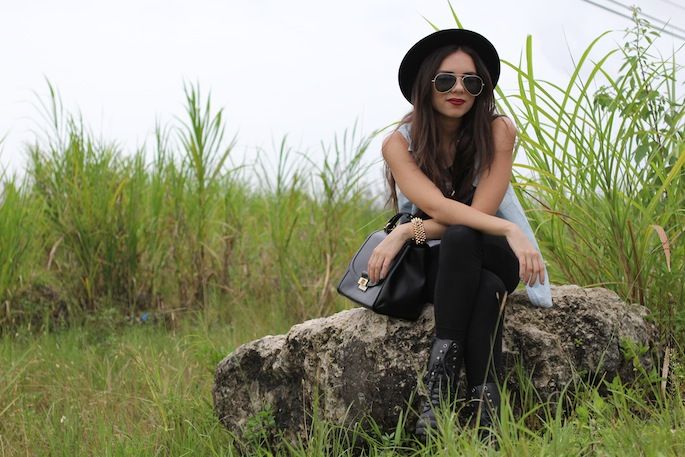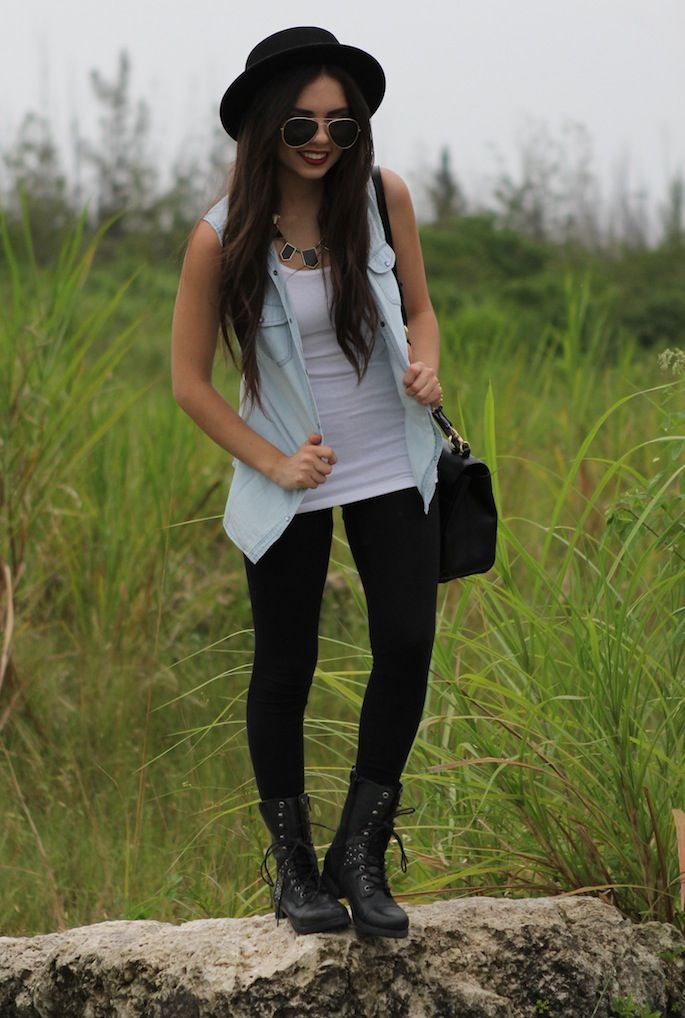 Top: c/o
Romwe
Boots: c/o
Pink & Pepper
White tank top: Target
Leggings: Express
Bag: c/o
Brahmin
Necklace:
ebay
Bracelet: c/o
Mimi Boutique
Hat: Forever 21
Sunglasses: Aldo